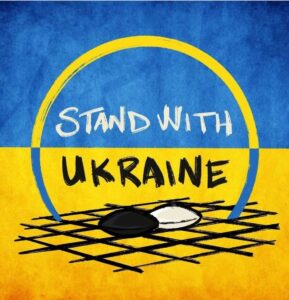 We ask for whatever help you can offer, whether that is by peacefully protesting, speaking to your representatives, or donating money.

Solidarity and support donation for Ukrainian Go players
Despite the enormous setbacks, Ukrainian junior and senior Go players are still trying to pick up their lives and represent their country in sports events.
From across Europe, we receive messages in which people show their support for the Go players in Ukraine. Many wish to help or start a campaign in support. Therefore the Ukrainian Go Federation decided to coordinate a financial support donation program for the Ukrainian Go players.
Show your solidarity and support to Ukrainian Go players by making a donation via bank transfer:
Also, in case you are willing to provide targeted assistance to the family you know or simply chose to support as a patron, please contact the UFGO Board. It will be our pleasure to provide you with all the contact details to make sure your support reaches those you chose to support.
Solidarity and support donation for all Ukrainians
Below are links to trustworthy organizations in need of funds to continue supporting and caring for the people of Ukraine.


Ukraine's Armed Forces →

The Come Back Alive Fund →

Razom →

Ukraine Humanitarian Assistance Account →